July 16
Andy & Renee and Hardrain
Folk Rock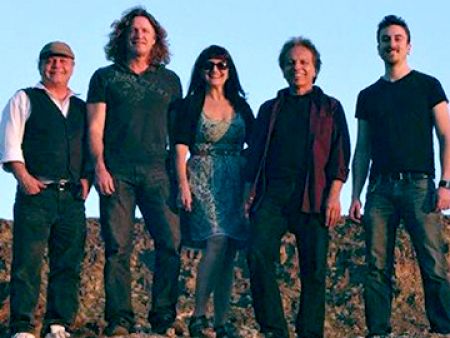 Since a chance meeting at the University of Denver, Andy Hill and his partner Renee Safier, have carved out a unique musical niche for themselves in the Los Angeles scene and beyond. Their performances – more than two-hundred a year – are as much social gathering as musical event. Part fan family reunion, part rock & roll tent revival, their incomparable live shows attract a large, enthusiastic, and fiercely loyal group of fans. Andy and Renee provide a much needed connection with live music to their audiences, whether in an intimate House Concert or at a large festival. Their music never fails to move you, your feet, your heart, or, most often, both.
Andy & Renee, along with their band Hard Rain, have taken their unique sound and multi-instrumental skills to venues large and small all over the world. Local Southern California highlights include House of Blues and the El Rey Theatre in Hollywood, and the Grand Annex and the Hermosa Beach Civic Theatre as well as playing to several blocks of a packed beach at the Hermosa Beach Summer Concert Series.They have also played at the Telluride Blues, Kerrville Folk Festivals,the Bob Dylan Festival in Alba, Italy and Fringe of the Cork Jazz Festival in Ireland and China's largest music festival, the Nanning International Folk Festival.
Their 15 CD and two DVD releases have won them countless awards, including: LA Music Awards "Americana Group of the Year", "Best Duo/Group" for the International Acoustic Music Awards, among many others. Their PBS Concert Special, "Black Box Opens-Andy & Renee", filmed at the ATLAS Black Box Theatre at the University of Colorado, Boulder, recently won a  Regional Emmy.
 In addition to all this, Andy Hill and Renee Safier just celebrated their twenty-sixth year hosting their own Dylanfest. What started out as a small once-a-year backyard party where a loose conglomerate of close friends would take turns performing Dylan classics all day and well into the night, has evolved into a full blown 8 hour music festival attended by hundreds of fans and featuring many of L.A.'s top musicians and is held at the Torrance Cultural Arts Center.
Andy Hill and Renee Safier both live in the South Bay area of Los Angeles.
Concert Sponsor

Thank you for your support!